What To Do With The Giardiniera Hot You Purchased From Sonoma Farm
Have you ever finished preparing a delicious home-cooked meal and thought to yourself "it's just missing one thing" but you're not sure exactly what it is? Very often you just need a little something extra on top to really kick your dish to the next level. It could be a sauce, one more spice, or even just a simple garnish that brings everything together. Well, you've got a new tool at your disposal now that you've purchased Giardiniera Hot from Sonoma Farm.
What IS Giardiniera Hot?
Think of it like a condiment or a topping that can go on many different things. First invented in Chicago, it's made from mild peppers, celery, carrots, cauliflower, and olives blended together in oil. Sometimes you'll see this made with a vinegar base, but our Giardiniera from Sonoma Farms is always made with extra virgin olive oil. It's savory, all-natural, and GMO-free, so feel free to use it on anything and everything!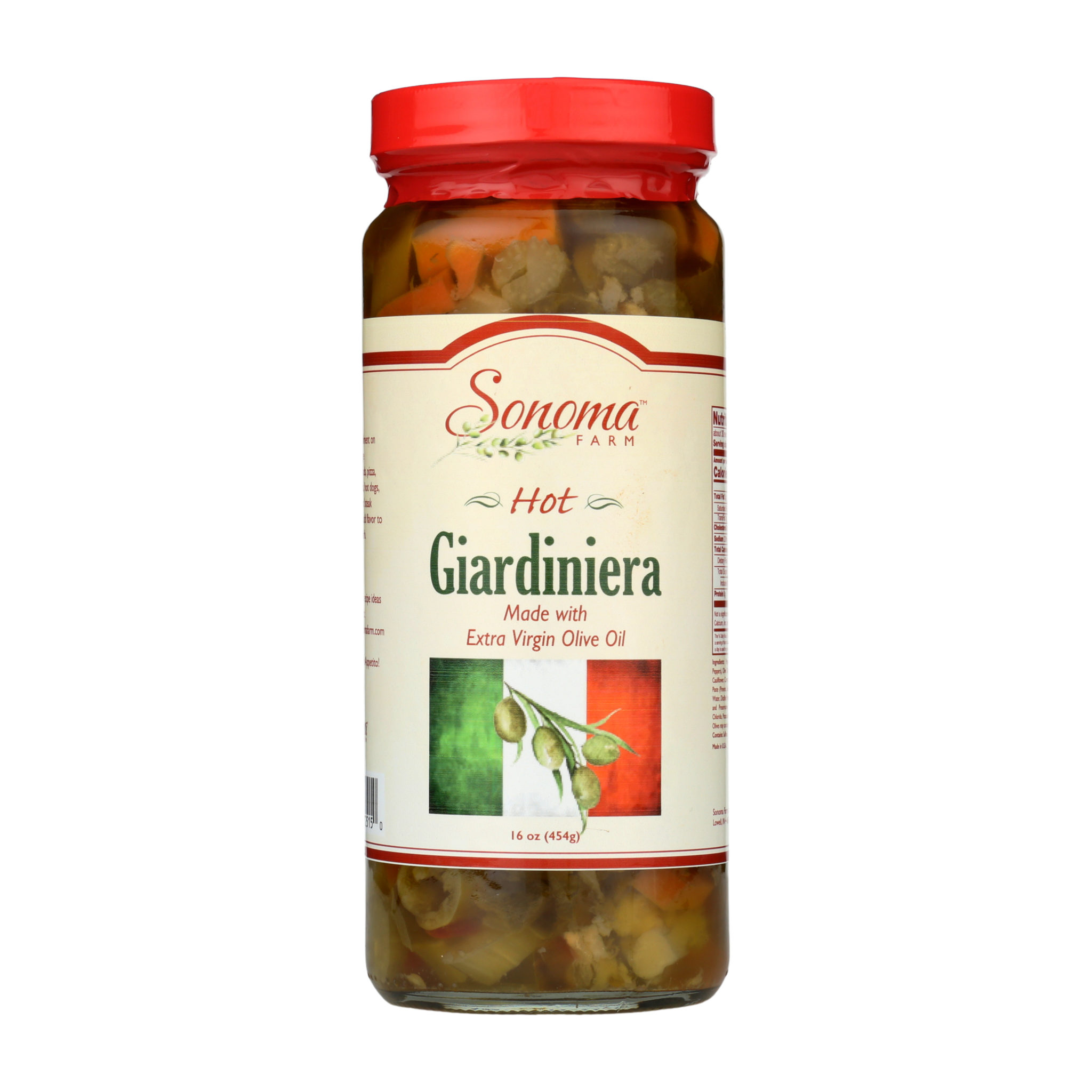 When do I use Giardiniera Hot?
You truly can use Sonoma Farm's Giardiniera Hot on pretty much anything. It adds a unique flavor profile and texture to so many classic dishes. It works great as a bruschetta topping for a quick and simple appetizer; just toast up some bread and add the Giardiniera Hot on top, maybe with a simple spread, and call it a day! It can be a great substitute for sauerkraut on hot dogs at your next BBQ, or add some to your next salad to give it an authentic Italian kick. If you're someone who likes to add salsa to their omelets in the morning, try using Giardiniera Hot instead and see how you like it. It goes great on sandwiches too, and many people enjoy it as a pizza topping!
Let's talk about sandwiches
While Giardiniera Hot pairs with just about anything, it really stands out when added to sandwiches and subs (grinders, hoagies – whatever you may call them in your area!). If you want to impress your family with the best Italian sub sandwich they've ever had, follow these directions and get ready to receive Gordon Ramsey-like praise from your satisfied diners!
You wont need a lot of time or too many ingredients to make this sandwich, so it's great for a quick and easy, but delicious, weekday dinner when you don't have the extra time to spend in the kitchen. First, gather all the stuff you need. Fresh ciabatta, prosciutto, a cheese of your choice, some fresh tomato and avocado, and some greens. You can serve a side of veggies with your sandwich if you like, or let it be the centerpiece of the meal. If you're preparing a few side dishes, get those started first as the sandwich takes no time at all to prepare.
Cut your fresh ciabatta and drizzle a little extra virgin olive oil on the face of the two slices. Put them face down in a hot pan to give them a little toast. Take them off when golden but before they burn. You'll want to layer on the thinly-slice prosciutto and alternate with the cheese you selected earlier. Thin is the name of the game as you cut into your tomatoes and avocados as well. We like to alternate them in layers because it makes for a beautiful cross-cut presentation when you're done, but if you prefer to stack all the meat together, then all the cheese, then the tomatoes and avocado that's fine too – it's your sandwich! Finish with a small handful of greens. But the game changer is adding the Giardiniera Hot to the sandwich before closing it up. You can add it as the top layer of the sandwich or hide it in the middle so you're pleasantly surprised by the burst of flavor as you get to the middle of your bite.
Why buy Giardiniera Hot?
There's a reason that the Chicago Italians have been using Giardiniera for 100 years. It's so versatile it can be used with any traditional dish, from pasta and pizza to salads and sandwiches. You can have it for breakfast with your eggs or add it to a side dish, or the main course, at dinner.
It's time to spice up your cooking. If you're tired of making the same things every week, you need to buy some Giardiniera Hot from Sonoma Farms to bring your appetizers and favorite meals to the next level.