Garlic Olive Oil – Elevate Any Dish With The Flavor Of Garlic
There are two things that I mostly use in our savory dishes – Fresh Herbs and Garlic. My cooking generally starts with peeling, chopping, and smashing some fresh garlic and ends with some handful of fresh herbs sprinkled for garnishing and some color. It amazes seeing that how just a hint of something can lift a dish to a whole new level.
However, there are many dishes where you do not need to add those chopped herbs or garlic. Just infusing the oil with these ingredients can fill the dish with so much flavor. You can use them for flavored rice dishes, pasta, salads, or even bread. The choice is endless!
Garlic olive oil is one of Sonoma Farm's most versatile oils, with the smooth, nutty flavor of slow-roasted garlic. This flavorful and aromatic product is ideal for both cooking and dipping.  If you are looking for the flavor of garlic in the convenience of oil, our garlic-infused extra virgin oil is the product for you.
Garlic is one of the most common ingredients in cuisines from all over the world, making this oil perfect for both adventurous and beginner cooks alike. It can be used in vinaigrettes and is fantastic in marinades as it is a more subtle, cooked garlic flavor. For creative combinations, you can also pair it with different flavored vinegar.
Try adding the oil in shrimp or fish dishes by pairing it with traditional White Balsamic Vinegar. And for Asian-inspired recipes or stir-fries, combine it with our Golden Pineapple Balsamic Vinegar and add a touch of Japanese Sesame Oil.
If you are looking for pairings to make vinaigrettes and salad dressings, try matching our infused garlic olive oil with other fruit-flavored vinegar for a lighter combination.  You will love it with Raspberry Balsamic Vinegar, Golden Pineapple Balsamic Vinegar, Gravenstein Apple White Balsamic Vinegar, and Red Apple Balsamic Vinegar.
Infused garlic olive oil has many other advantages beyond vinaigrettes and marinades too! You can also use the oil to impart flavor to roasted meats, soups, mashed potatoes, and pasta dishes. The oil can also be used to dip crusty bread in as an easy appetizer.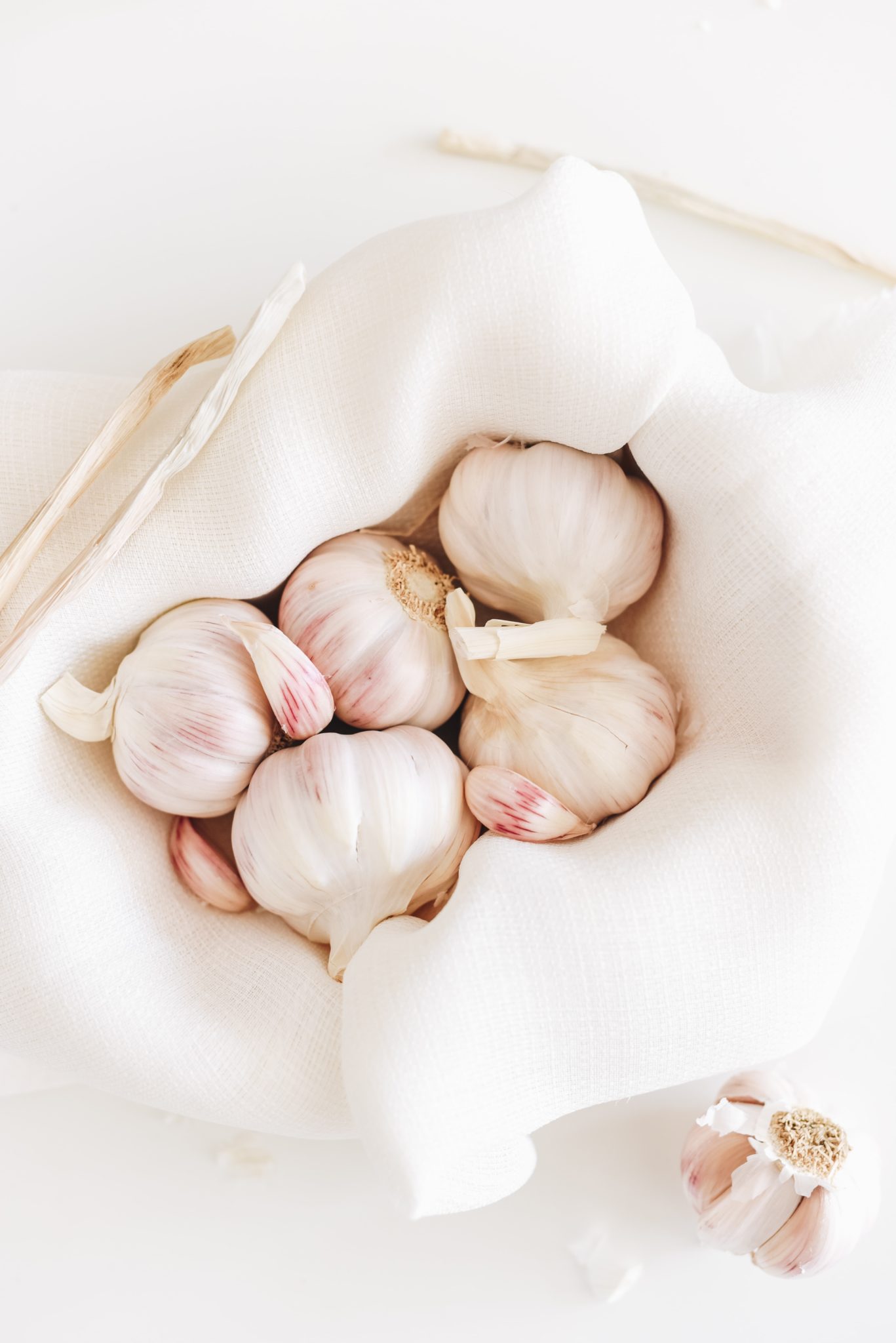 Take garlic olive oil and toss cubed potatoes adding salt and pepper to it and roast at 400 degrees for 30 to 40 minutes. Serve steamed vegetables like green beans or broccoli with a drizzle of the oil, and then top with chopped nuts, fresh basil, or sesame seeds. You can use it to make bruschetta. Brush the oil on your bread to add extra flavor to your grilled cheese sandwich. Also, you can make homemade mayonnaise using infused garlic olive oil.
Other Ways of Using Infused Garlic Olive Oil
Drizzle garlic-infused olive oil over fried or poached eggs.
Create a vinaigrette with a punch.
Marinate mushrooms in red wine vinegar and garlic olive oil along with spices and herbs of your choice.
Add some garlic-infused olive oil for a blast of taste in your black bean soup. Citrus juice along with the oil will give it a contrasting flavor.
Roasted potatoes. Fingerlings? Or perhaps new potatoes? Add a little smoked lime and paprika for added flavor.
The Richness Of The Oil…..EXPLAINED!!
Can be enjoyed even as a dip
Organic yet affordable
Ready rich flavor
Good for your immunity, heart, and taste buds
Versatile
Where Can You Buy Garlic-infused Olive Oil?
Garlic olive oil is becoming more and more common these days. Specialty stores focused on vinegar and olive oil, often have it.  However, you can find this freshly made oil with us by infusing fresh garlic cloves with hand-picked and cold-pressed olives. We create supremely fresh and rich garlic-flavored olive oil bearing the taste of authentic fresh garlic.
We use no artificial flavors, additives, or pesticides in our product and guarantee the use of the most flavorful and fresh ingredients only.
Relish Your Handmade Dishes By Adding Garlic-Infused Olive Oil
Get started by memorizing the above-mentioned ideas and satisfying your family's taste bud. Buy Sonoma Farm's infused garlic olive oil to keep on hand for busy nights when you need to prepare a delicious gourmet feast.
To know more about our certified organic, hand-crafted products, visit us today!