How To Cook Using Flavor Infused Extra Virgin Olive Oil
When buying an infused extra virgin olive oil, you want to be sure you're getting the best quality at the best price andlook no further than the online store of Sonoma Farm. We use only the freshest ingredients to infuse flavor into top-quality extra virgin olive oil, with the entire production process taking place at our FDA-inspected facility. Therefore, we can guarantee that our infused olive oils with have an authentic flavor that will elevate even your simplest dishes. And we offer olive oils infused with a wide range of flavors. Our infused olive oils are perfect for pan searing, roasting, grilling, baking, as a finishing touch in desserts or mixed with vinegar as a delicious dressing.
Ways to Use Different Flavor Infused Olive Oils
With a selection of flavors such as Sonoma Farm offers, you might be wondering how you could use such oils. Well, here are just a few ideas on how to use some of the different flavors we offer.
A basil-infused olive oil can be used as a marinade for meats and vegetables or drizzled over chopped fresh tomatoes. It can also be combined with balsamic vinegar for a tart, flavorful dressing. Toss it with pasta (or just drizzle it on) to add a kick of flavor. You can even brush basil-infused olive oil on the bread when making a grilled cheese sandwich to take that simple favorite to the next level.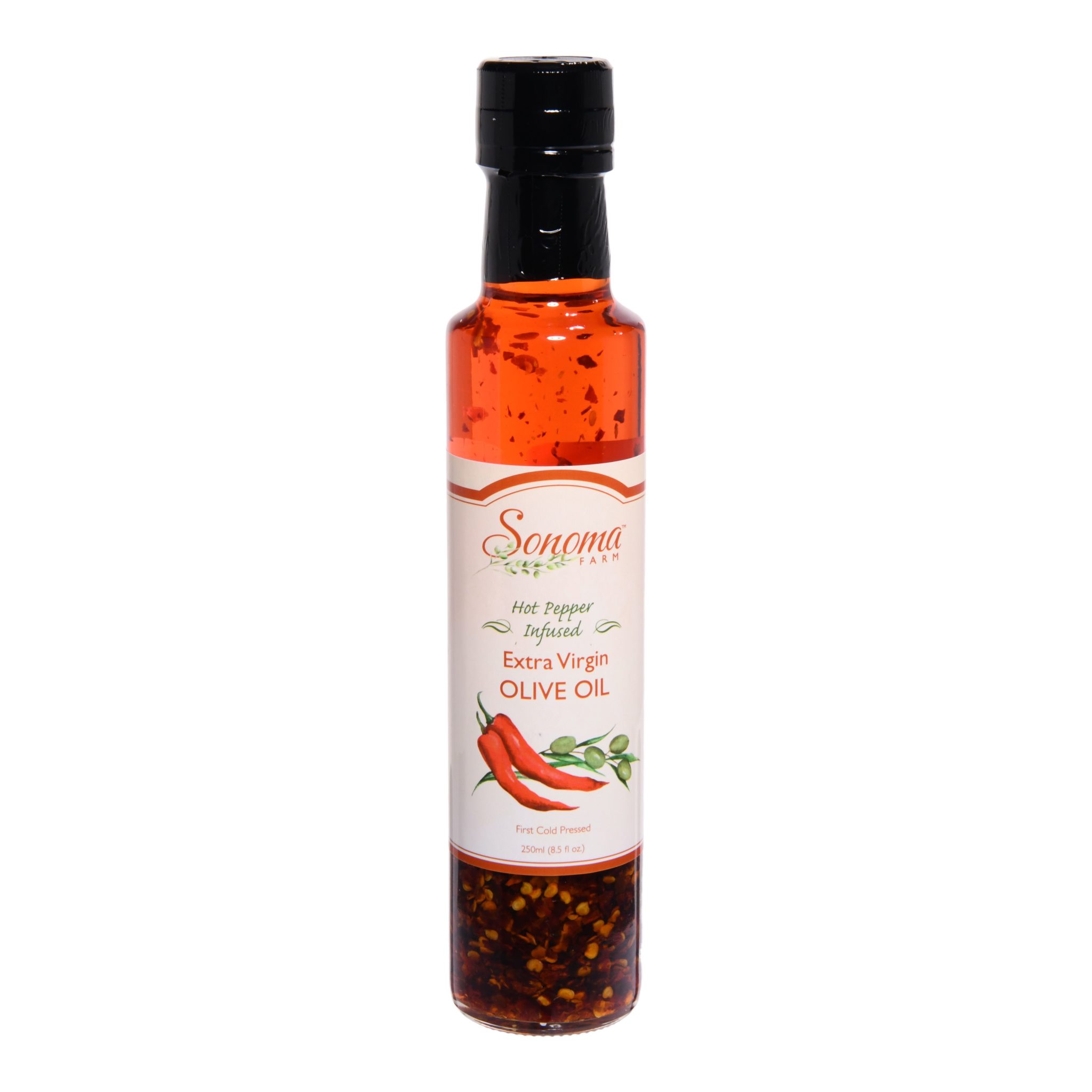 If you have a bottle of our blood orange infused olive oil, you can use it on poultry, seafood, vegetables, eggs, desserts, or salads whenever you want to add a touch of citrus. You can also use it as an ingredient in a dipping sauce for bread, or combine it with infused vinegars like chocolate, cranberry walnut, cranberry pear, honey ginger, vanilla, Lambrusco, grapefruit, blackberry, blueberry, raspberry, or raspberry ginger.
With our butter infused olive oil, you have a healthy substitute for melted butter in your baking recipes. It also makes an easy butter substitute for popcorn or combined with maple balsamic on pancakes or waffles. Or combine it with a plain balsamic vinegar and drizzle it on as a finishing touch to roasted squash. It's also a great addition to roasted vegetables – just toss them with this oil before roasting.
There's a range of uses for our lemon infused olive oil. Add it to salads, pasta, vegetables, poultry, seafood, baked goods for a bit of tart citrus flavor. It also makes an amazing sauce when paired with several infused vinegars such as honey ginger, honey serrano chili, orange mango passion, lavender, fig, pineapple, blueberry, raspberry, raspberry ginger, blackberry, or strawberry.
A great use for our jalapeno infused olive oil is as a cooking oil for frying eggs or drizzling over scrambled eggs. You can likewise use it when pan-frying quesadillas or brush it on Paninis or grilled cheese sandwiches. It also makes a good dipping sauce.
So you see, there are several ways you can use our wide range of flavor infused Extra virgin olive oils to liven up your dishes. And we take pride in ensuring you the best product at an affordable price. So, when looking for flavor-infused olive oils, don't hesitate to turn to Sonoma Farm.