Top-Quality Infused Olive Oil At The Best Price
Are you looking for great olive oils to use in your kitchen? Well, then you need look no further than Sonoma Farm. We offer the best quality organic olive oils, pressed from the finest fresh organic olives, and handcrafted in small batches to ensure our products are the very best. Sonoma Farm has an established reputation as a supplier of oils, vinegars, and other organic gourmet products, and everything we make is peanut- and tree-nut-free.
That's why when you're looking for premium olive oils, you should rely on Sonoma Farm.
At Sonoma Farm, we offer a range of great products in our store, including a variety of flavour-infused olive oils.
Check out just a few of our infused olive oils, all made with the best, freshest ingredients.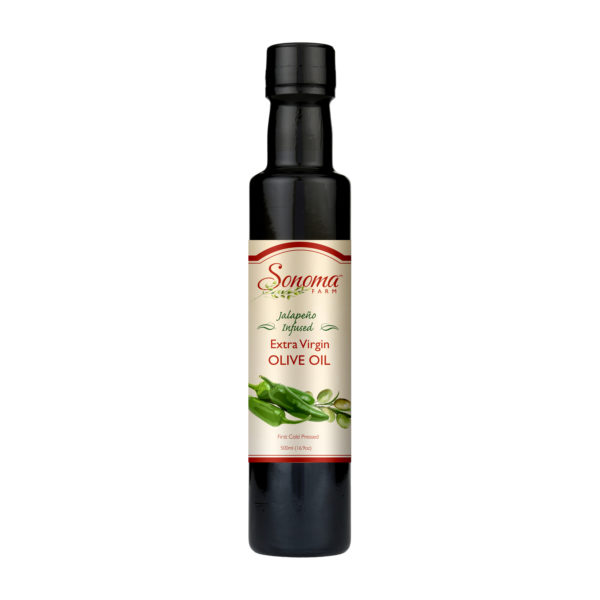 Infused Olive Oils from Sonoma Farm:
Basil Infused Extra Virgin Olive Oil: This olive oil is infused with the flavor of freshly picked basil. Just a drizzle makes a great addition to salads, roasted vegetables, and more.
Butter Infused Extra Virgin Olive Oil: Combining the rich flavor of fresh churned butter with the incredible health benefits of extra virgin olive oil, this is a must for anyone wanting great flavor on a healthy diet.
Lavender Infused Extra Virgin Olive Oil: All-natural lavender infused in extra virgin olive oil, it's great on lamb, cod, goat cheese, or desserts.
Lemon Infused Extra Virgin Olive Oil: Cold pressed olive oil with the flavor of fresh lemons, this oil is great with poultry and fish.
And we have many more. Search our selection and find your new favorite infused olive oil at the best price today and enjoy our easy ordering and quick delivery.
Why Sonoma Farm
We are a trusted supplier with years of experience
A great selection of products to choose from
Satisfaction guaranteed
Quality products
Certified organic
Hand crafted production for better quality
Great prices
We never use artificial flavors or other additives, and our items are also free from pesticides – just great tasting, all-natural gourmet products. And we source our ingredients from trusted local farmers and produce them in FDA-inspected facilities to ensure quality. That's why we have so many regular customers that come to us for artisanal oils, vinegar, muffuletta, and other gourmet items.

Sonoma Farm the perfect choice for those wanting to cook healthy without sacrificing flavor, and we have infused oils to pair with just about any dish. We even have a library of amazing recipes of our own for you to try – everything from desserts to main courses and more, all incorporating one or more of our wonderful products.
Read our customer reviews and see the kind of satisfaction we pride ourselves on. We work hard so customers will come back to us again and again. From our products to our customer service, we never settle for less than the best.
If you want to find out more about our products, or want to place an order, contact us anytime.