Sonoma Farm Butter Olive Oil – Superior Quality And Gourmet Products For Your Kitchen
Cooking with olive oil is a healthy choice – and with a premium quality extra virgin olive oil, a delicous one as well – but there is something about the dairy richness of real butter that can't be beat. Fortunately, there is a way to get the best of both worlds – with Sonoma Farm butter flavored olive oil. This oil lets you keep the documented health benefits of olive oil while still bringing real butter flavor into all your favorite dishes.
We infuse premium quality olive oil with delicious butter flavor derived from natural, healthy botanical sources. The result is an oil that gives your recipes a depth and richness that regular oil alone just can't. And butter flavored olive oil allows you to indulge guilt-free with a healthy alternative to real dairy butter that brings you the same wonderful flavor without the guilt!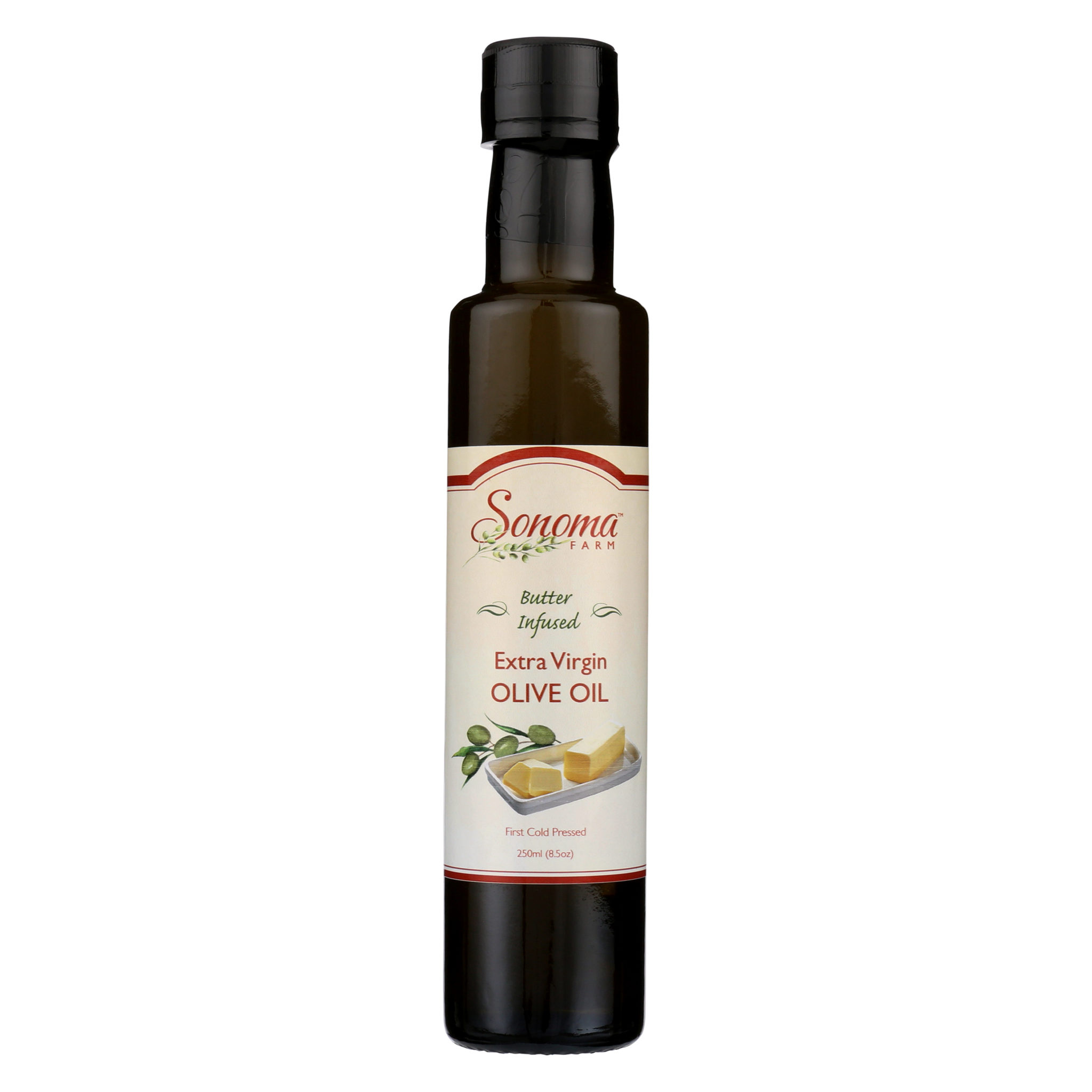 What Sets Apart Sonoma Farm Butter Flavored Olive Oil?
Produced using a skillfully crafted plant-based natural butter flavor
Vegetarian and dairy-free
The rich, creamy taste of real butter
A wonderful butter substitute without the saturated fat
Cold pressed extra virgin olive oil for the best flavor
Available in sizes from 8.5 ounces up to one gallon
100% natural product made with the freshest ingredients
Our butter flavored olive oil is made from the best quality olive oil, cold-pressed from olives grown by the best producers. We never use chemicals or heat-treatments during the oil extraction process to ensure a better-quality and better tasting oil that retains its full nutritional value. We then infuse this oil with carefully selected botanical ingredients to give it an authentic, all-natural butter flavor. The result is butter flavored olive oil like nothing else on the market.
Our butter olive oil is made from only the freshest natural ingredients and produced in small batch processes to ensure the very best quality. It's dairy-free and vegetarian, and like all our products, it is peanut, tree-nut, and seafood free. The creamy, rich taste of our butter-flavored oil makes a wonderful, healthier alternative to using regular butter in your kitchen, and it can be used as a replacement for butter in any recipe that calls for it.
How to Enjoy Our Butter Flavored Olive Oil:
Our butter-flavored olive oil is a versatile ingredient you can use in several ways. You can spread it on your favorite bread or drizzle it over roasted vegetables. Try it on pancakes or waffles, or it in place of melted butter as a topping on popcorn, corn on the cob, baked potatoes, or pasta dishes like shrimp scampi. It even makes a great butter substitute in baking. With our butter flavored olive oil, you can cut back on saturated fats, sodium, and cholesterol in your diet without having to give up on taste.
Sonoma Farm is a recognized artisan gourmet food producer. We use ingredients from local farmers and top producers in California and Italy and offer a selection of certified organic products in every category. To learn more – or order your butter flavored olive oil or other gourmet products today – visit https://www.sonomafarm.com.